When it comes to getting the perfect haircut or shave, communication is key. Whether you're a regular at the barber shop or this is your first time, knowing what to ask for is essential. This article will guide you through the key considerations, the terminology, and the style specifics that will help you articulate your desired look to your barber.
Understanding the Basics
Know Your Hair Type
Before deciding on a haircut, it's important to know your hair type. Do you have thick hair or thin hair? Is it straight, wavy, or curly? Different hair types will behave differently, and some haircuts will suit certain hair types better than others.
Consider Your Face Shape
Next, consider your face shape. Oval, square, round, heart, diamond, or rectangular – each face shape has haircuts that flatter it the most. A good barber can recommend haircuts that will balance and complement your face shape.
Think About Your Lifestyle
Consider your daily routine, work environment, and personal style. Are you looking for a low-maintenance cut or are you okay with spending time on styling? Does your job require a certain level of conservatism, or can you express yourself freely with your hairstyle?
Learning the Lingo
Taper vs. Fade Haircut
A taper gradually changes your hair length from the top of the head down to the nape, with the hair at the neck's bottom being the shortest. A skin fade is similar but the change is more dramatic and the hair often ends up skin short.
Clippers vs. Scissors
Clippers tend to provide a more uniform, shorter cut, while scissors can give a more textured, natural look. If you're unsure, discuss the desired outcome with your barber.
Undercut
An undercut involves short sides and a longer hair top. The sides and back can be all the same length or faded, but there's a clear distinction between the hair on the sides and the top.
Pompadour
The pompadour is a classic style where the hair is swept upwards from the face and worn high over the forehead.
What to Ask Your Barber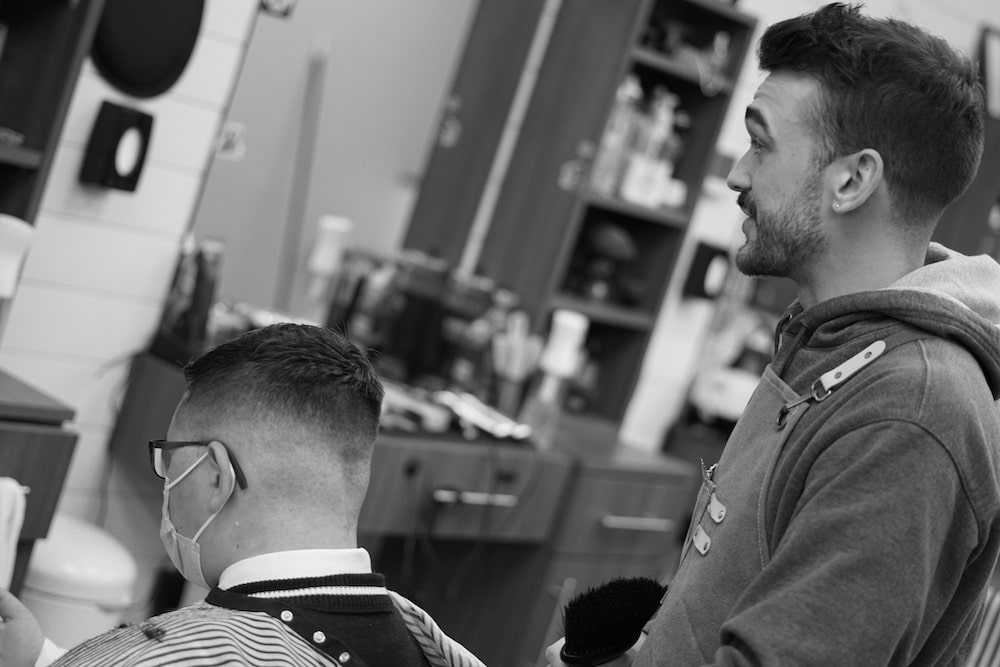 Be Specific About the Length
Instead of saying "short," give a clear indication of the desired length. You could use clipper guard numbers if you know them, or use your fingers to show the desired length.
Ask For Recommendations
Don't shy away from asking your experienced barber for their advice. They're experts in haircuts and styles and can give you suggestions based on your hair type, face and head shape, and lifestyle.
Bring a Photo
A picture is worth a thousand words, and this is particularly true at the barber shop. Bring a photo of the hair cut or style you want. This will give your barber a clear idea of what you're looking for.
Talk About Maintenance
Ask your barber how to maintain your new good haircut. They can give you styling tips, recommend products, and suggest how often you should return for trims.
Discuss the Back
Often overlooked, the back of your head is as important as the front. Ask your barber how they plan to shape the back — whether it's a block, rounded, or tapered finish.
Examples of What to Ask For a Haircut
For a short, classic style: "I would like a short back and sides with a little length on top, tapered at the back and sides with a #2 clipper guard. Leave about two inches on top for a bit of styling."
For a modern look: "I want an undercut with a fade on the sides. Please leave the top longer, around four inches, so I can sweep it back or to the side."
For medium-length hair: "I'd like a layered cut with scissors only. I want to maintain the length around the ears and the nape, but please thin out the bulk a bit."
For a low-maintenance cut: "Can you give me a crew cut? Use a #1 on the sides and back, and a #3 on top."
For a trendy style: "I'd like a pompadour with a mid-fade on the sides. Keep the top long enough to slick back."
For a long hairstyle: "I want to maintain my length but remove some weight. Can you add long layers and shape around the face?"
Remember, the key to getting the perfect new haircut lies in the clear communication of your needs and preferences. Don't be afraid to ask questions or for clarifications if you're unsure about any part of the process. Barbers are skilled craftsmen, and they're there to help you look your best. Armed with this guide, you're now ready to confidently navigate your next barber shop visit.
Final Thoughts
Navigating your way around a barbershop can seem daunting, especially with the myriad of terminologies and potential styles to choose from. However, as we've seen throughout this guide, knowing what to ask for comes down to a blend of understanding your own preferences, learning a bit of barbering lingo, and having open communication with your barber.
Remember that getting a haircut isn't just about maintaining neatness or sticking to the status quo. It's an avenue for personal expression, a tool for boosting your confidence, and can even influence how others perceive you. It's therefore worthwhile to take the time to think about what you want from your haircut and to discuss this in detail with your barber.
Equally as important is building a relationship with your barber. Regular visits will allow them to become familiar with your own hair type, your personal style, and your lifestyle needs, enabling them to provide more personalized recommendations and overall better service.
Finally, be open to change and experimentation. It can take a few tries to find the perfect style for you, and that's okay. Hair grows back, and each visit to the barber is an opportunity to refine your preferences and try something new.
With these tips and insights in hand, your next visit to the barber shop should be a more confident and productive experience. Whether you're seeking a simple trim or a complete style overhaul, knowing what to ask for is the first step to walking out of the barber shop with a cut that not only looks great but also feels uniquely 'you'.
Experience the Parker's Difference Today!
Ready for a fresh cut or a new style? Come to Parker's Barber Shop, where our expert barbers are committed to making you look your best.
Whether you're after a classic clean-cut or want to experiment with the latest trends, we've got you covered. We take pride in our craft and ensure that every haircut is tailored to suit your style, face shape, and lifestyle.
Plus, we're not just about haircuts. We offer a range of services from beard trims to hot towel shaves, all designed to give you the ultimate barbershop experience.
Don't wait! Book an appointment with us today and let us show you why Parker's Barber Shop is the go-to place for the best in grooming and style. Discover the perfect blend of tradition and innovation at Parker's Barber Shop – where every cut is a masterpiece.