Image Source: Unsplash
Planning a wedding involves numerous decisions, from the venue and the guest list to the menu and the decorations. However, one aspect that often gets overlooked is the groom's hairstyle. While all eyes may be on the bride, it's essential for the groom to look his best too. After all, those wedding photos will be cherished for a lifetime. In this comprehensive guide, we will explore the top men's hairstyles for weddings, providing you with inspiration and tips to ensure you have a flawless look on your special day.
1. Classic and Elegant: The Fade Haircut
One of the most versatile and popular men's hairstyles for weddings is the fade haircut. This trendy hairstyle can complement any look, from a refined combover to a daring faux hawk. The fade haircut features tapered sides and back that gradually blends into longer hair on top. It creates a clean and polished look that is both elegant and stylish. Whether your wedding has a formal or casual dress code, the fade haircut is a surefire way to guarantee a camera-ready appearance.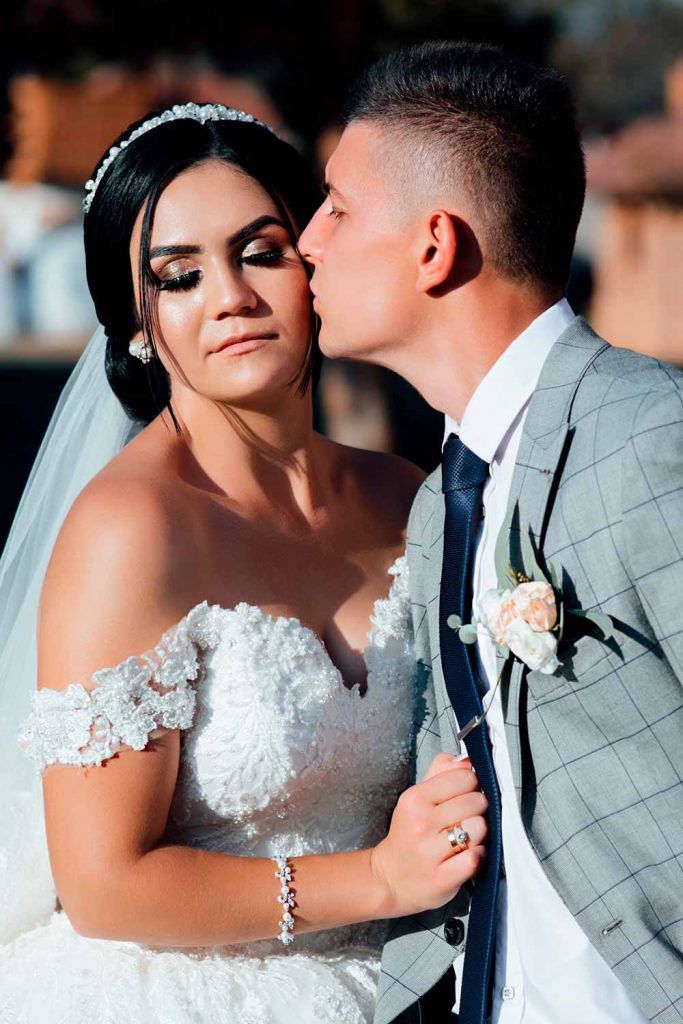 2. Embracing Your Natural Texture: Medium Wavy Hair
If you have naturally wavy locks, why not embrace them on your wedding day? Medium wavy hair is a timeless and romantic choice for men's wedding hairstyles. This look allows your hair's texture to shine, showcasing relaxed waves that exude effortless charm. To style your medium wavy hair, apply a small amount of hair product and let your tresses flow freely. This laid-back and natural hairstyle is perfect for any wedding setting, whether it's a beachside ceremony or an elegant ballroom affair.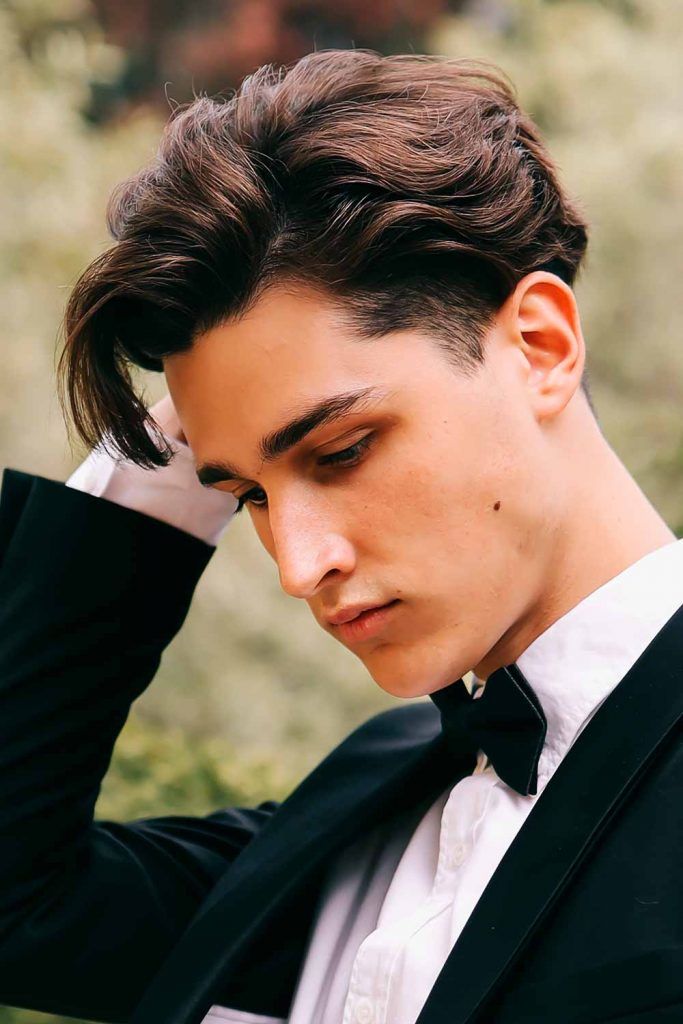 3. Simple yet Sophisticated: Side Parted Medium Hair
For those who prefer a more traditional and refined look, the side parted medium hair is an excellent choice. This hairstyle adds shape and definition to your medium-length hair, without requiring excessive styling or creativity. The simple act of parting your hair to the side instantly elevates your wedding hairstyle. This classic and sophisticated look suits any formal attire, from a semi-casual suit to a timeless tuxedo.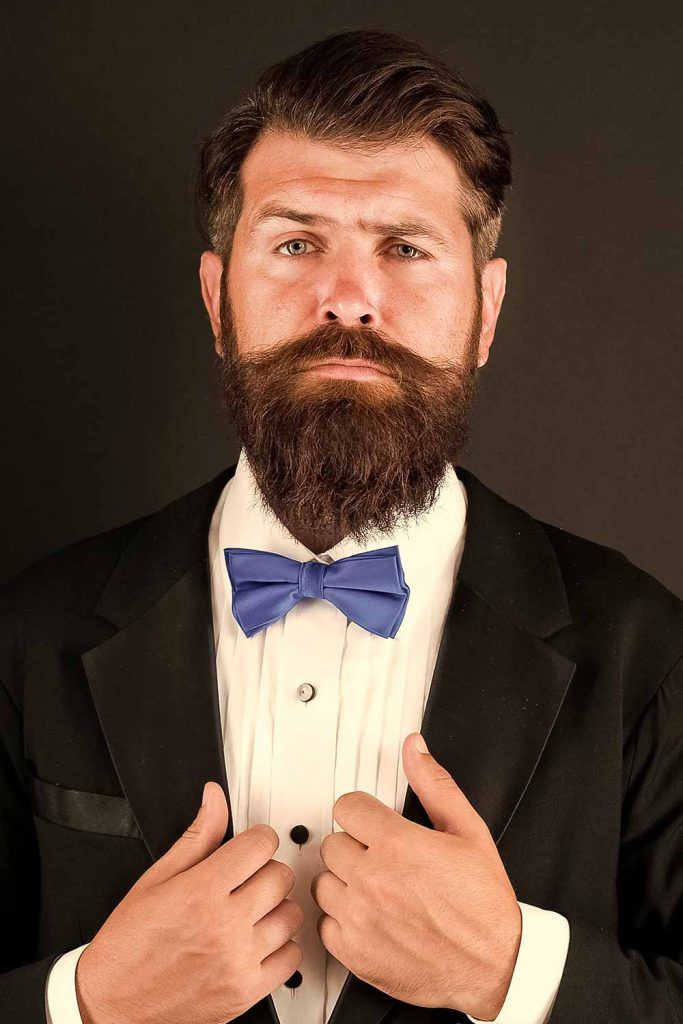 4. Timeless and Neat: Clean and Elegant Wedding Hairstyles
When in doubt, you can never go wrong with a classic and clean men's wedding hairstyle. Neat and tidy styles perfectly match the solemnity and formality of a wedding. These timeless hairstyles exude elegance and refinement, ensuring you look your best on your special day. To complete the look, pair your clean and elegant hairstyle with a traditional tuxedo or formal suit for a truly sophisticated finish.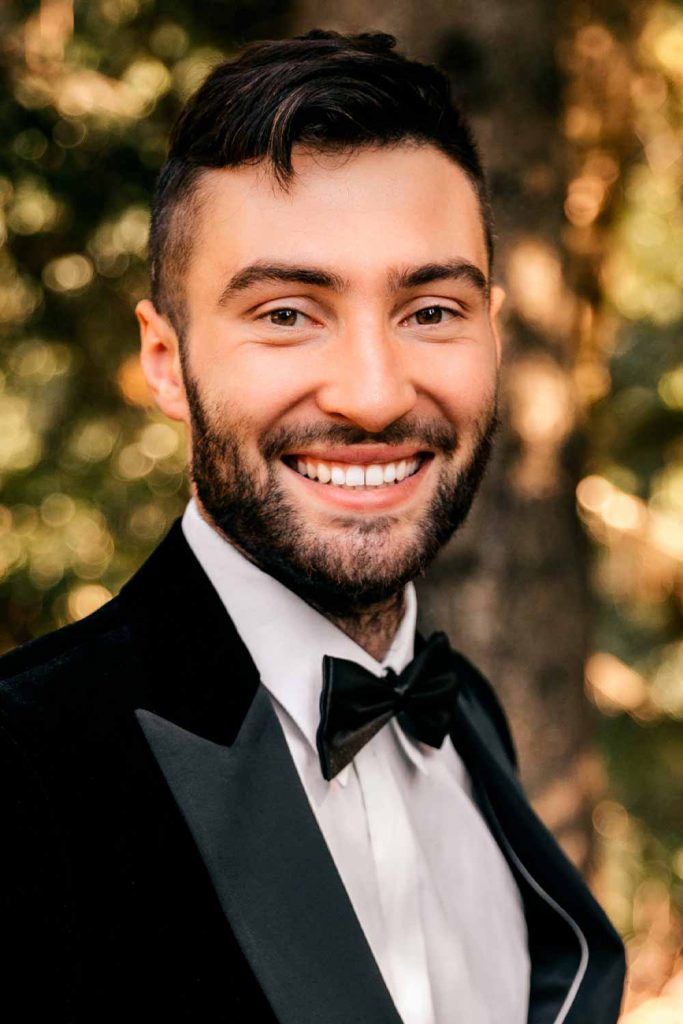 5. Stylish and Low-Maintenance: Short Slick Back
If you have short hair and prefer a sleek and polished look, the short slick back hairstyle is an excellent choice for your wedding. This versatile hairstyle works well with any hair texture and is easy to style and maintain. Simply use a high-quality hair styling product with a strong hold to slick your hair back, ensuring it stays in place throughout the celebration. The short slick back hairstyle exudes confidence and sophistication, making it a perfect fit for a groom on his wedding day.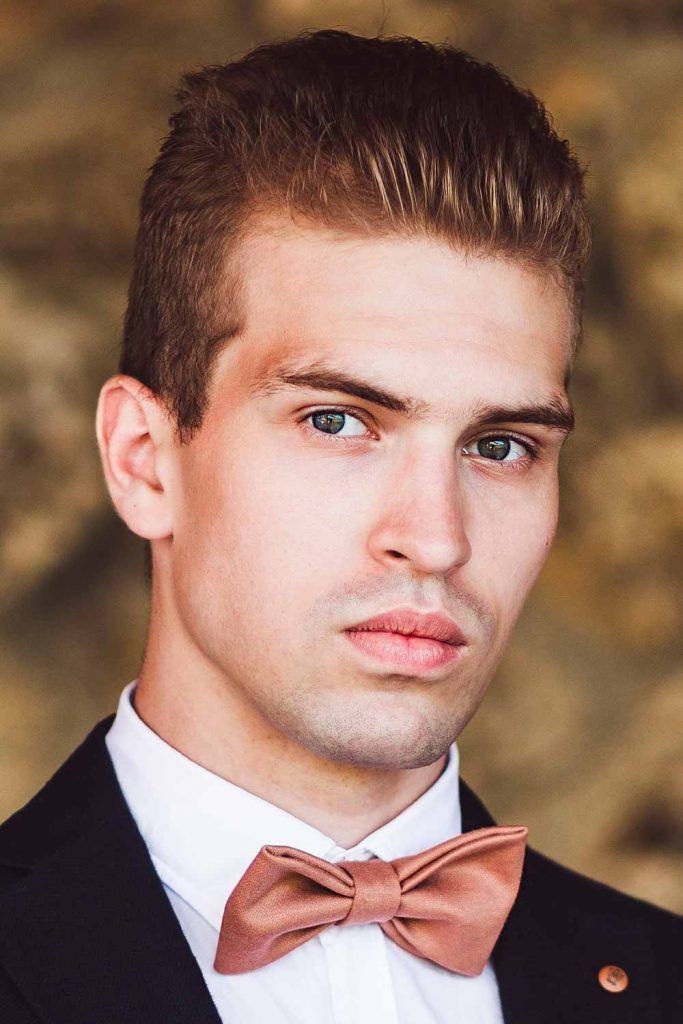 6. Bold and Classy: Brushed Side and Back + Undercut
For grooms who want to make a statement on their wedding day, the brushed side and back hairstyle with an undercut is a bold and classy choice. This eye-catching hairstyle features longer hair on top that is brushed back, creating a sleek and refined look. The contrasting undercut on the sides and back adds an edgy twist to this otherwise classic hairstyle. If you're looking for a unique and stylish men's wedding haircut, the brushed side and back + undercut is the way to go.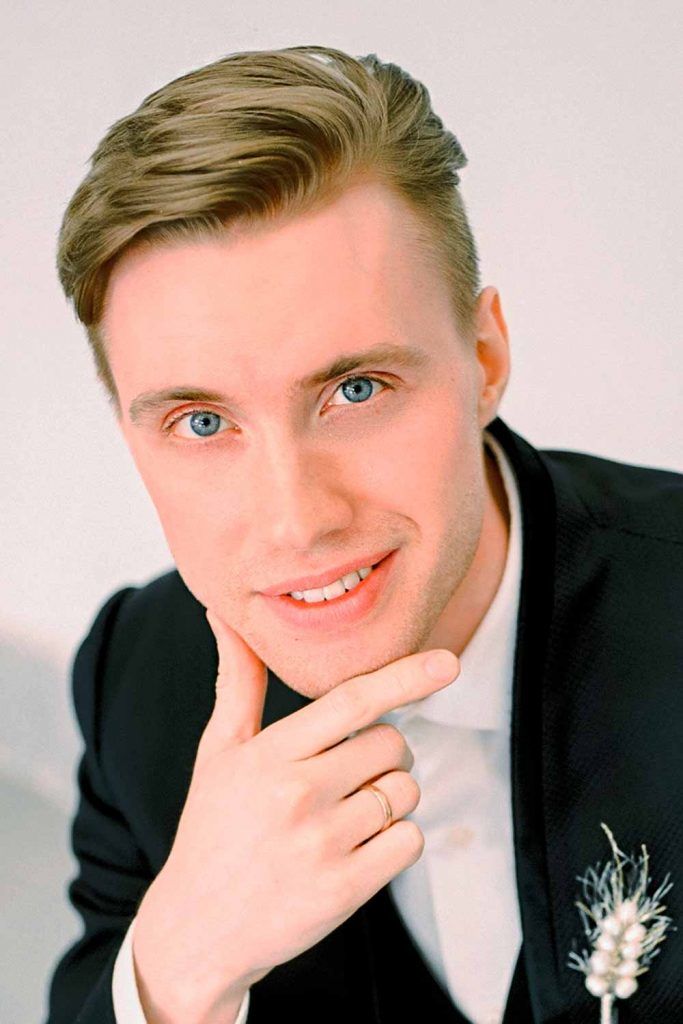 7. Adding Volume and Fullness: High Volume Men's Wedding Haircuts
If your hair naturally lacks volume and fullness, don't worry. There are ways to give your hair a boost and create a high voluminous top for your wedding hairstyle. Tease and dishevel the front section of your hair, and secure the result with a hair spray to achieve the desired height and volume. This high volume look adds a touch of drama and flair to your overall appearance, ensuring you stand out on your wedding day.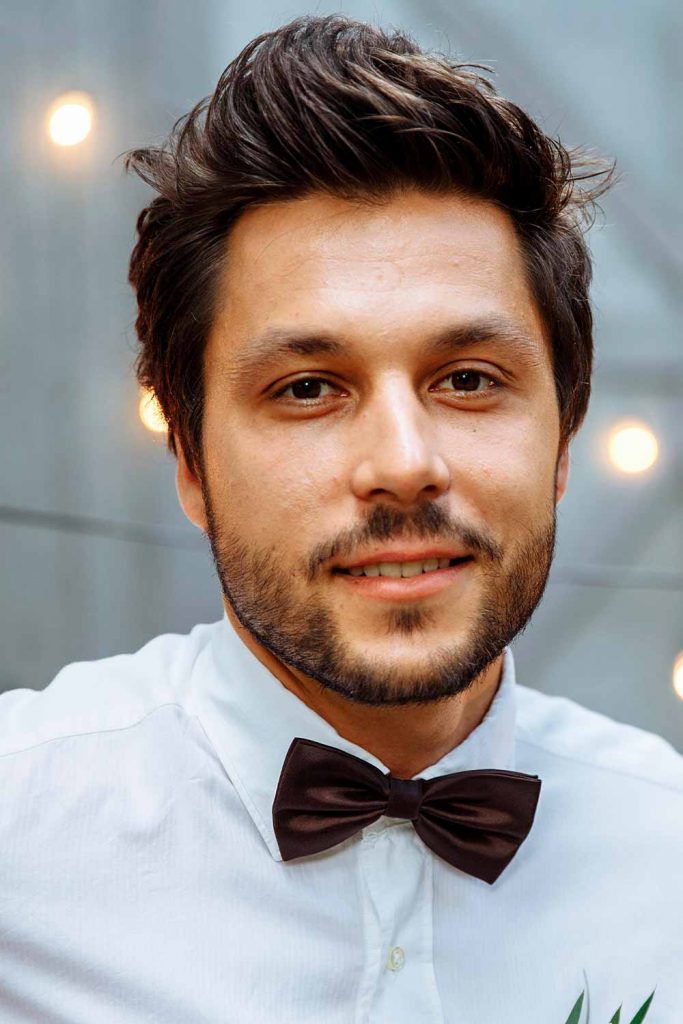 8. Embracing Length: Top Knot Wedding Hairstyles
For grooms with long hair, a top knot wedding hairstyle is a trendy and bold choice. This look involves tying your hair up into a knot on the top of your head. When paired with a well-groomed beard, the top knot hairstyle exudes a sense of confidence and masculinity. To add even more contrast to your look, consider getting an undercut haircut on the back and sides. The top knot wedding hairstyle is a modern and fashion-forward option for grooms who want to make a statement.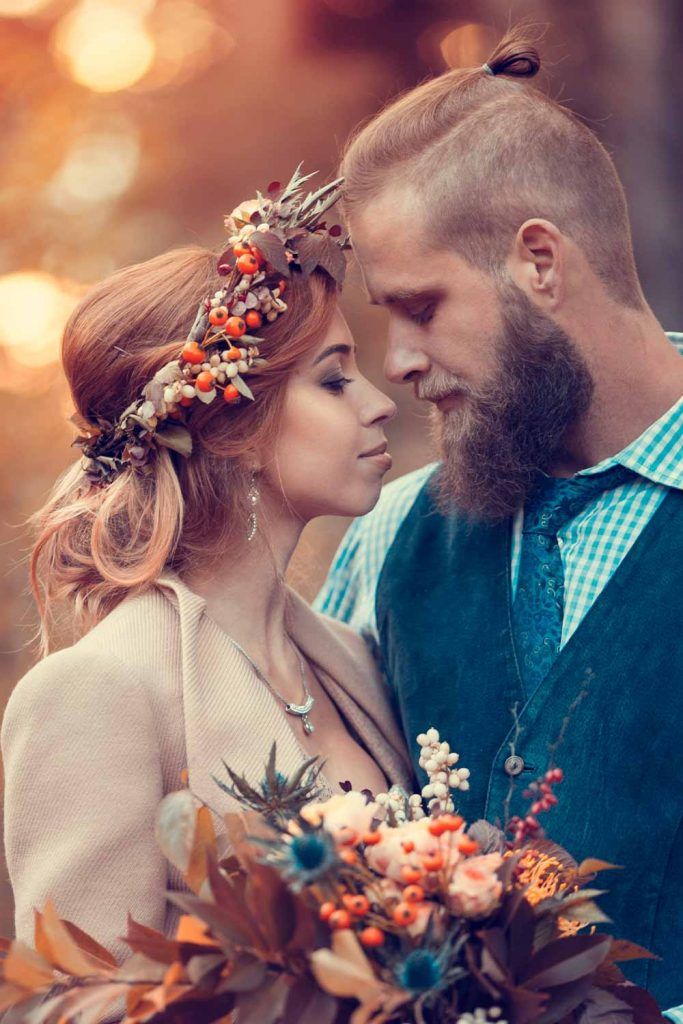 9. Amplify Your Style: Brushed Up Hair
If you want your hairstyle to be prominent and bold, consider the brushed up hair look for your wedding day. This voluminous hairstyle adds height and texture, creating a statement-making appearance. Achieve this look by using a strong hold hair styling product, a brush, and a hair dryer to brush your hair upwards. The brushed up hair look is perfect for grooms who want to exude confidence and style on their big day.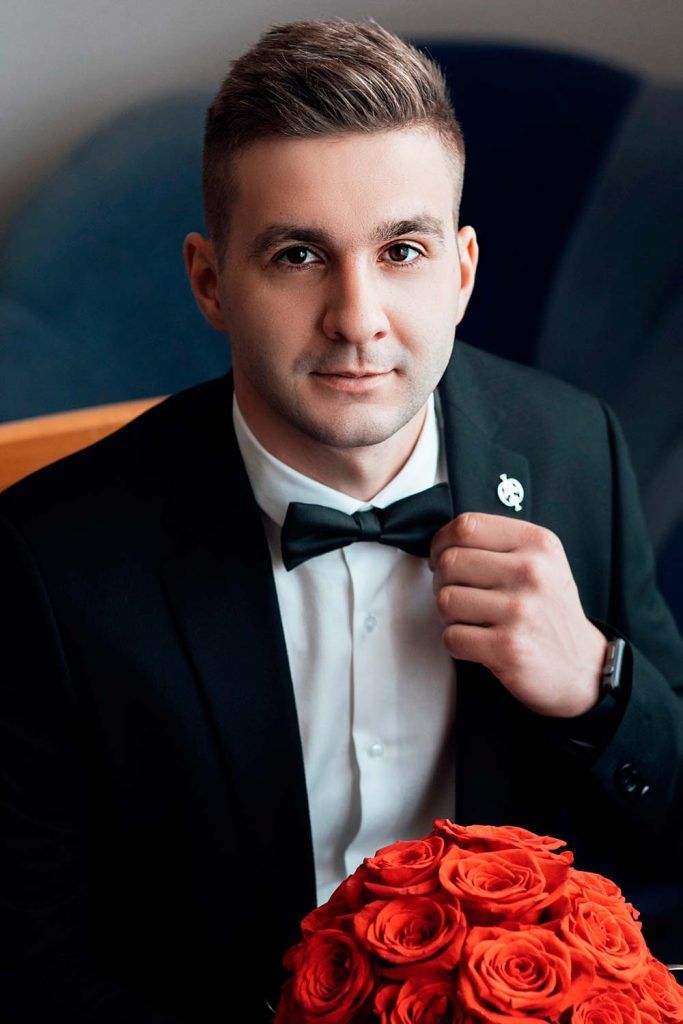 10. Romantic and Flowing: Shoulder Length Wavy Hair
For grooms with shoulder-length hair, the shoulder length wavy hairstyle is a romantic and appealing choice. This look showcases the natural beauty of your wavy locks, giving you a relaxed and effortlessly charming appearance. Whether you're opting for a beach wedding or a rustic outdoor celebration, the shoulder length wavy hair adds a touch of romance and sophistication to your overall look.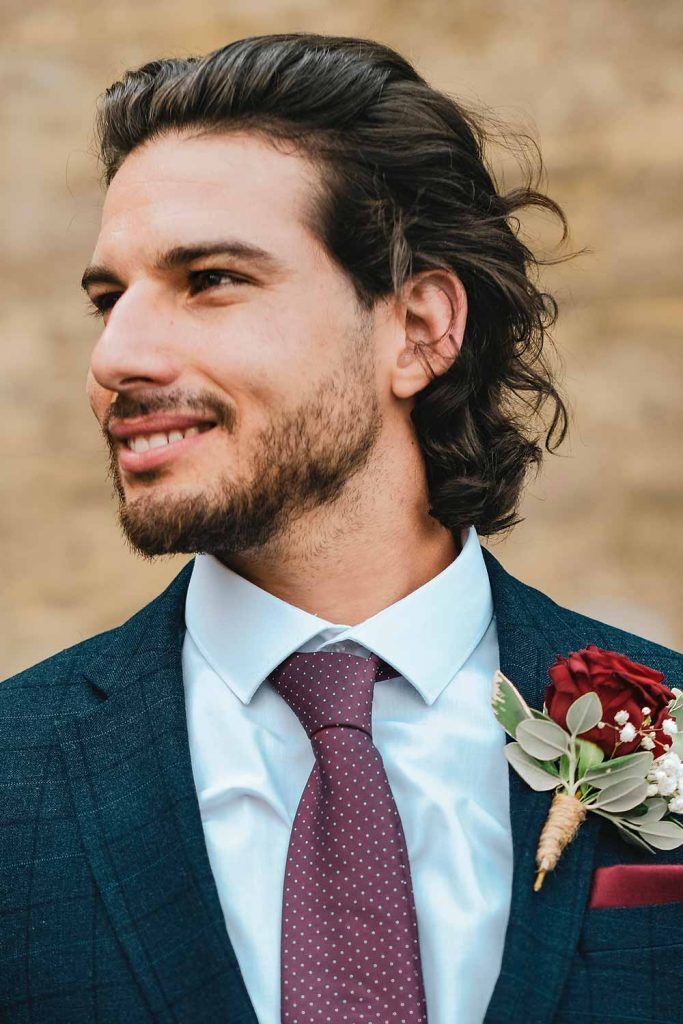 Conclusion
Your wedding day is a once-in-a-lifetime event, and it's crucial to look your best. With these top men's hairstyles for weddings, you can find the perfect hairstyle that suits your personality and complements your wedding attire. Whether you prefer a classic and elegant look or a bold and trendy style, there's a hairstyle to suit every groom's taste. Remember to consult with your barber in advance, allowing enough time for any transitions or adjustments. With the right hairstyle, you can confidently walk down the aisle, knowing that you look stylish and impeccable on your special day.