Are you tired of getting mediocre haircuts from unisex salons? Do you want to experience the luxury of having a skilled barber who can fulfill all your hair styling dreams? If so, then you need to find the best barber shop near you. In this comprehensive guide, we will provide you with everything you need to know about finding the perfect barber for your needs. From the importance of selecting the right barber to tips on how to find the best one, we've got you covered.
Why Choosing the Right Barber is Important
A good barber is not just someone who cuts your hair. They are artists who can transform your appearance and boost your confidence. Choosing the right barber can ensure that you get a consistent, sharp haircut with every visit. It can also help you maintain a consistent image and experiment with new styles. Here are some reasons why choosing the right barber is essential:
Expertise and Skill
A good barber possesses the necessary expertise and skill set to deliver exceptional results. They have honed their craft through years of training and experience, ensuring they are proficient in various haircutting techniques, styling trends, and grooming services. With their expert hands, they can create precise and tailored haircuts that complement your facial features, hair texture, and personal style.
Understanding of Hair Types
Hair comes in different textures, thicknesses, and styles. A good barber understands the intricacies of various hair types and knows how to work with them effectively. Whether you have straight, curly, thick, or fine hair, a skilled barber can provide personalized recommendations and techniques to enhance your hair's natural characteristics, resulting in a hairstyle that suits you perfectly.
Personalized Consultations
One of the key advantages of choosing a good barber is their commitment to personalized consultations. A skilled barber takes the time to understand your preferences, lifestyle, and grooming goals. They actively listen to your needs, offer professional advice, and collaborate with you to create a customized grooming plan. This level of personalized attention ensures that you leave the barbershop with a haircut that reflects your unique personality and enhances your overall appearance.
Attention to Detail
A good barber pays meticulous attention to detail. They understand that it's the small touches that make a significant difference in achieving a polished look. From precise hairline trims to clean and defined beard lines, a skilled barber ensures that every aspect of your grooming is executed with precision and finesse. Their keen eye for detail sets them apart and ensures that you consistently receive a flawless grooming experience.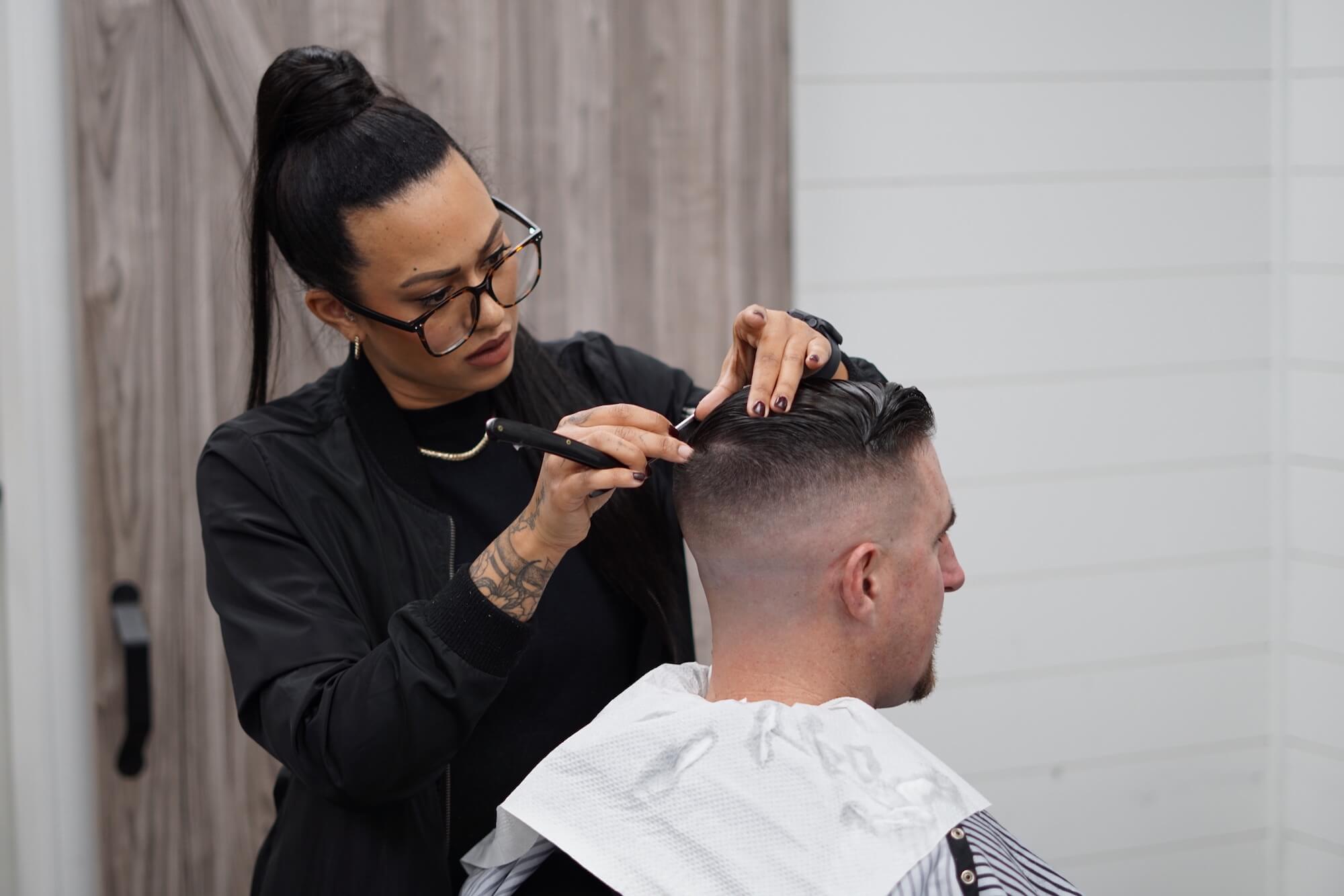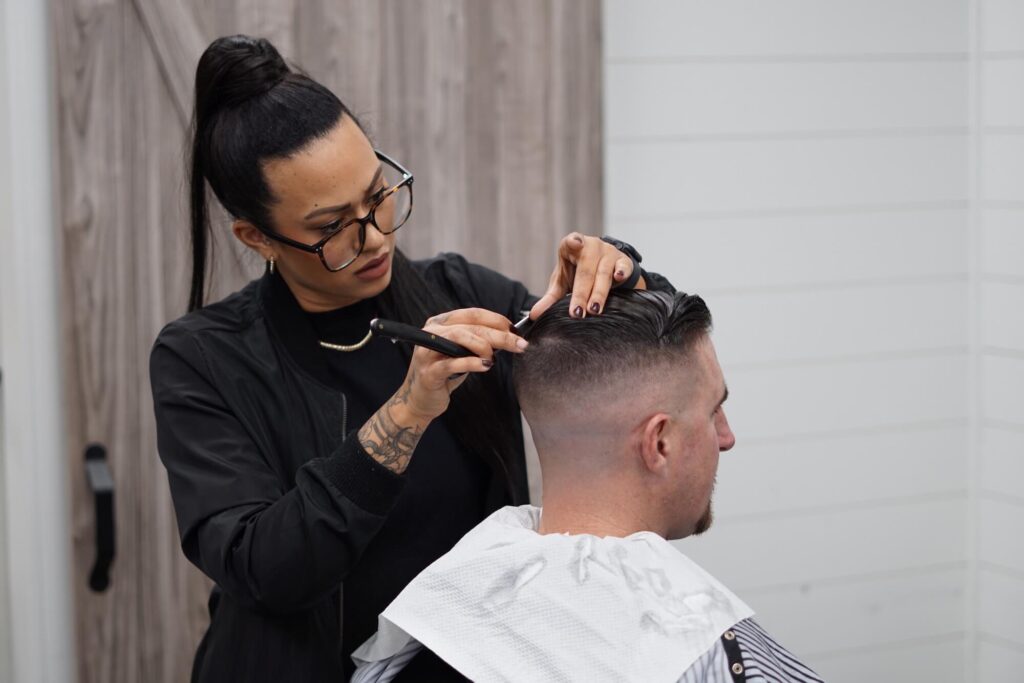 Trend Awareness
Styles and grooming trends are ever-evolving. A good barber stays updated with the latest industry trends and techniques. They attend workshops, engage in continuous education, and remain passionate about their craft. By choosing a barber who is well-versed in current trends, you can explore new styles and experiment with different looks, knowing that you are in capable hands.
Barber-Client Relationship
Building a strong relationship with your barber is an invaluable aspect of the grooming experience. A good barber takes the time to get to know you, building trust and rapport. They remember your preferences, understand your style evolution, and provide consistent quality service. This relationship creates a comfortable and enjoyable atmosphere during each visit, making the barbershop a place where you can relax and confidently entrust your grooming needs.
How to Find the Best Barber Shop Near Me
Now that you understand the importance of selecting the right barber, it's time to find the best barber shop near you. Here are some tips on how to do it:
Ask Around
The first step in finding the best barber shop near you is to ask around. Seek recommendations from friends, family, and colleagues who have impeccable grooming standards. Chances are they have a great barber that they'd be more than happy to recommend to you.
Search Online
Harness the power of the internet to conduct thorough research on barbershops in your area. Look for barbershops that have a strong online presence, including websites, social media platforms, and online reviews. This will give you an idea of their professionalism, skills, and commitment to customer satisfaction. You can also check out online directories such as Yelp or Google My Business to find barbershops near you.
Check Out Reviews
Online reviews can be an excellent point of reference when looking for the best barber shop near you. However, it's best to assess reviews optimistically, especially feedback from years prior. Reviews may have been about past staff members who no longer work there or from disgruntled customers whose issues are price or location related, and not service-based.
Consider Experience and Attention to Detail
When choosing your individual barber within a shop, it's essential to ask about their experience so you can discover who is best qualified to handle your needs. Most people find themselves building loyalty to one particular stylist, and following them to other barbershops as their career grows. Attention to detail is also important. A great barber takes his personal appearance seriously because he's in the business of helping men with their personal and professional image.
Don't Think About the Price
When it comes to personal styling, beard styles, and modern hairdressing, the price shouldn't be your deciding factor. In the hairstyling industry, the most expensive barbershops aren't always providing the best service, with factors such as shop front rental prices and supplier costs driving up the price. Simply put, the cheapest barber in your neighborhood might very well be the best. Having said that, there is such a thing as too cheap, so if the price seems too good to be true, there might be a catch (ie a terrible hair cut awaits).
Consider Unique Services
Some barber shops offer unique services that can enhance your grooming experience. For example, they might provide head washing, massages, beard treatments & facials. They might also have barbers that are particularly talented, and they might use high-end products and equipment. It's hard to tell until you stump up the money and get the cut. At the end of the day, if you didn't think it was good value, you can always move on to the next one.
Visit the Barbershop
Before committing to a barbershop, it's a good idea to visit them in person. Get a feel for the atmosphere, and observe how the barbers interact with their clients. Take note of the shop's cleanliness and organization. Look for barbers who are confident and can confidently tell you what would work best for you depending on your requests and your face shape and structure.
Conduct an Interview
When you visit a new barber, he's applying for a new position as the go-to man for all your grooming needs. As with hiring any new employee, make sure to conduct a solid interview in order to get a feel for whether he's the right man for the job. Ask questions to get an idea of the barber's experience and how in demand he is. Also, ask some questions to get a feel for his personality.
Start Out Slow
The best way to figure out how skilled the barber is without risking a bad haircut is to simply ask that he clean up your hairline around your ear and your neck. It's hard to screw up, and even if he does, it's not too noticeable. Just from the 10 to 15 minutes you're with him and the quality of the trim, you should be able to get a good idea if the barber is a keeper or not.
Check Out Social Media
Thanks to Facebook & Instagram location tagging and online portfolios, it's easy to discover the creativity and skill level of the barbershops around you, by merely looking at their work. These easy to access platforms become a visual representation of the type of styles the shop can achieve, the variety of cuts they are known for, and whether they can accommodate the beard and haircuts you want.
Conclusion
Finding the best barber shop near you is essential to achieving a polished look and maintaining a consistent image. By following the tips provided in this guide, you can ensure that you find the perfect barber for your needs. Don't be afraid to ask around, conduct interviews, and visit barbershops in person. Remember, a good barber is not just someone who cuts your hair; they are artists who can transform your appearance and boost your confidence. So, take the time to find the right one, and you'll never have to settle for a mediocre haircut again!